Settings can really help me anchor characters. When I know where they come from and how they feel about that place it often gives me a strong handle on what they want out of life…and why they might be having so much trouble trying to get it.
The minute I set First Comes Baby… in "The Bay" the story came alive for me. "The Bay" is the affectionate local term given to Port Stephens and its principal township of Nelson Bay. Port Stephens is an hour north of where I live and roughly three hours north of Sydney. And it's one of my favourite places in the world.
I have such good memories of this place. I come from solid working class stock, but days stolen away at the bay with a prepacked picnic made my family feel like royalty. For me The Bay represents summer, laughter, family, good times and freedom from everyday concerns. Like I said, I love it.
So I thought I'd take you on a little photo journey to show you the places in The Bay that are special to Meg and Ben from First Comes Baby…
This is the strip where Meg and Ben live (they're next door neighbours) in Fingal Bay, which is at the south-eastern edge of Port Stephens. They live one street back from the beach, but with awesome views (and yes I did use poetic license
).
And this is the beach they wake up to every day.
Here it is from a slightly different angle. If you look closely you might be able to see the sand spit that leads out to Fingal Island. Meg walks along there a lot.
Nelson Bay is only a short ten-minute drive away. Little Beach is very popular. At the far end of the beach is the Nelson Bay Marina. One Saturday Meg and Ben eat hot chips on the beach…
And one evening they share a rather passionate kiss here.
To give you an idea of scale, the harbour of Port Stephens is two and a half times larger than Sydney Harbour. I've only shown you the tiniest fraction. Here are a couple of pics from Gan Gan lookout.
Pretty, huh?
My heroine, Lainey, in An Accidental Family owns a flower shop. She's trying to make something of herself, to prove that she can be successful without the fancy degrees of the rest of her family–or a husband. So far, her track record isn't great. She's failed–in her mind–at everything she tried, starting with college and ending with marriage, to a man who treated her badly.
But running this shop comes with its own challenges. And once she realizes she's pregnant, Lainey realizes she needs to change her definition of success.
Ben, my hero, isn't looking for anything but a place to hide from the glare of the negative spotlight after an accident in the line of duty kills his best friend. Ben feels responsible for the accident–he made a judgement call and when it went south his friend came to save him. Ben doesn't feel he can move on with his own life when his friend lost his.
When he's thrown together with Lainey, he finds himself slowly drawn in by her spirit and her unwillingness to quit despite the challenges thrown her way. She's learning she's stronger than she thought she was–and so is Ben.
The fun of this book was watching Ben and Lainey discover not only each other, but themselves as well. Neither of them knew how tough they were, but both rose to the occasion when it mattered. I'm not a plotter, so I had no idea how this book would turn out. In fact, getting Ben and Lainey to their HEA took me years, as I couldn't quite get the story to work. But I also couldn't let them go. So when I revisited it on a lark one day, and things started happening with it (it finalled in two major contests) I HAD to finish it. And I learned that I, too, can rise to the occasion when I think all is lost.
Cupcakes!
One of the best parts of "researching" this book was that I got to look for interesting cupcake recipes and variations. My heroine, Avery, is a baker who specializes in cupcakes.
Now, while the hands-on research might have been fun, I had to be strict with myself. I was writing this in the 2 months leading up to last year's RWA conference…not the time you want Cupcake Butt. So I did a lot of LOOKING. Not just at flavours but decorations. Man, people get really creative when it comes to baked goods!
I did try one recipe because I LOVE lemon and I made these for my RWA chapter meeting. I couldn't resist Lemon Chiffon Cupcakes (click on the name to go to the site where I got the recipe). They turned out pretty well, too!
Avery makes these great Chocolate Cream Cheese cupcakes that Callum LOVES – and she ends up giving them to the kids in a youth program on their volunteer day at Butterfly House, a charity I introduced in my first Cadence Creek book last May. My husband made these once and they were OMG so good. You don't even have to frost them…there's this cheesecakey filling in the middle that is gorgeous.
But when Avery is asked to bake special cupcakes for the Butterfly House Chili Cookoff event at the annual rodeo, I really went searching. A rodeo required a cupcake with a bit of kick, so I came across recipes for Chocolate Chili Cupcakes. In particular I loved the idea of this one, with Chili Cream Cheese Frosting! The difference is the pieces of chocolate on the top weren't quite right. Instead I pictured something more like the picture below - but in red!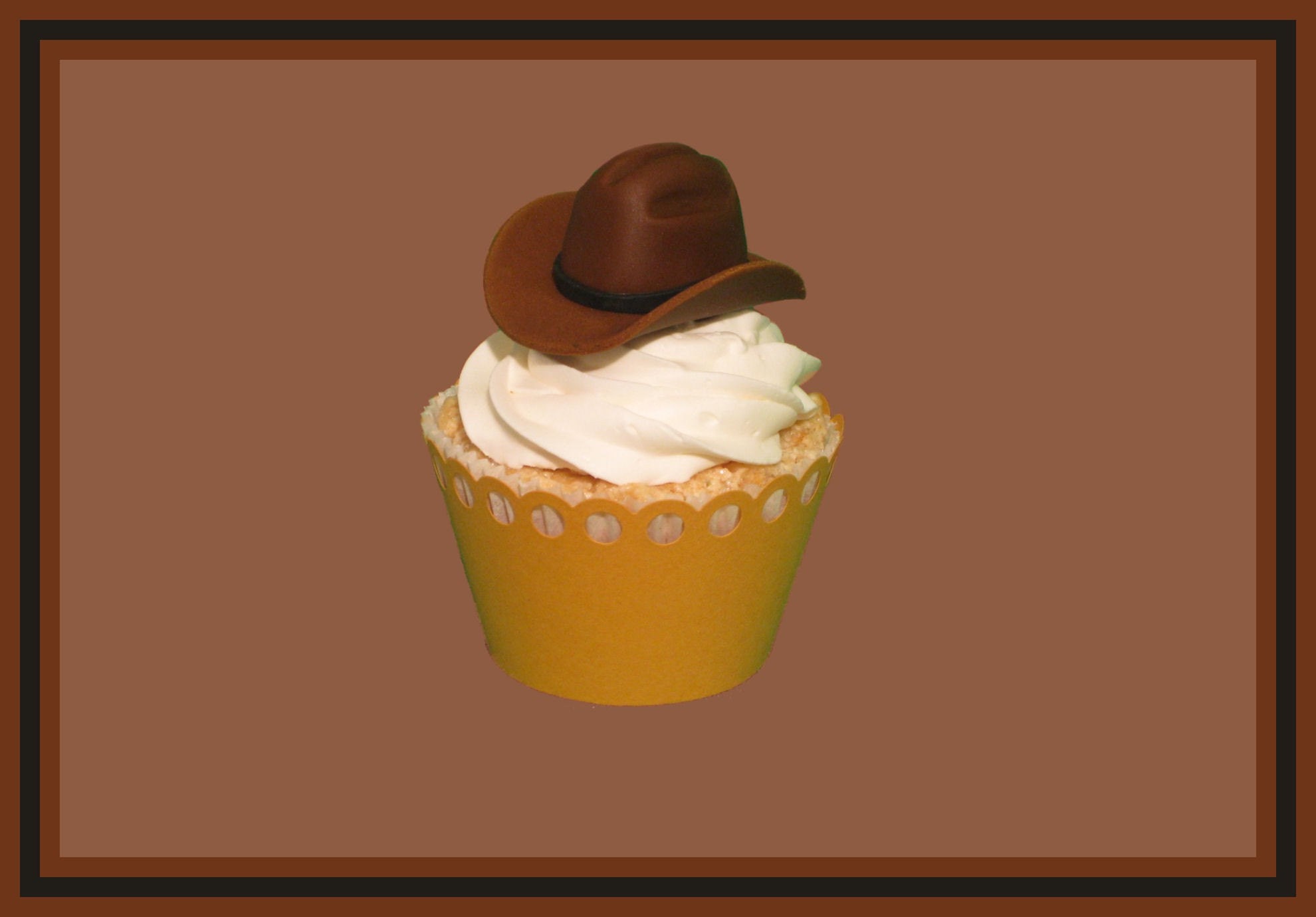 Isn't that the cutest thing???
Of course they were a big hit…and that turns out to be a pretty significant detail as Avery makes some tough decisions later on in the book.
And my virtual research meant that I didn't have to worry about fitting into my clothes come conference time.
You can pick up Little Cowgirl On His Doorstep at amazon, Harlequin, and anywhere else Harlequin Romance is sold. And please stop by my website at www.donnaalward.com! You might want to check out the Recipe Corner…

I'm a huge fan of the UK TV show Strictly Come Dancing (very similar to Dancing with the Stars in the US), and I've always wanted to learn how to dance properly. Given that I'm a bit of a Method author (i.e. I like to step into my hero or heroine's shoes, if I can), I was thrilled when I discovered that a new dance class for novices was starting at a village nearby, in January last year.
It was the perfect chance, I thought: I could learn how to dance, and at the same time write a book set in the world of ballroom dancing…
And so I talked my husband into coming to the class with me, and talked my editor into what became my very first Harlequin Romance, Ballroom to Bride and Groom.
I had such fun writing that book.
Apart from anything else, it means that I have a nice pair of shoes. (I don't wear shoes unless I really have to, and I live in a pair of boring flat loafers – when we did the shoe post last year, I was deeply ashamed of how boring my shoes are!)
The dance that we've really struggled with is the waltz (particularly doing the corners), so that's why my heroine has such a hard time with it. (My dance teacher has read the book and couldn't help laughing when she read that bit!) And it made perfect sense for my hero to whisk her off to Vienna… which we happened to visit, the summer before last. We didn't get a chance to dance in Vienna (well, there were plenty of string quartets, but our teenager and teenager-in-training would've squirmed if we'd done what my hero and heroine did). But we did get to do a few of the things that my hero ad heroine did (well, in our footsteps!)
We tried Sachertorte. (Not for breakfast… but we were quite bad.)
We saw the Stefansdom cathedral at night.
We visited the Belvedere Palace (I thought the marble hall there would make an amazing ballroom).
We took a ride in a fiaker – that's a horse-drawn carriage.
We went to some cafes to try the most incredible cakes.
And then there's the melange coffee…
I loved Vienna. And I hope you enjoy the trip there as much as my hero and heroine do!