TESELLİ İLİŞKİSİ – JACKIE BRAUN
Takı tasarımcısı Rachel Palmer hayatı boyunca mantığının sesini dinlemiş, kalbini görmezlikten gelmişti. Tekdüze ve sıkıcı evliliği kocası Mac'in onu aldatmasıyla sona erince kendini hiç ummadığı bir iş ortaklığının içinde buldu. Mağazasının sadık müşterisi İtalyan iş adamı Antonio Salerno, Rachel'ın eşsiz yeteneğini dünyaya tanıtmakla kalmayıp genç kadının kalbini de fethetmeye kararlıydı. Rachel ömrü boyunca almaktan kaçındığı risklerin girdabına kapılmış, yıllardır bastırdığı isteklerine teslim olmuştu. Kısa süren gönül ilişkileriyle ünlü bu meşhur playboy, Rachel için göze alınamayacak kadar büyük bir risk miydi? Bu yakışıklı ve seksi adamla ilişkisini profesyonel düzeyde tutmayı başarabilecek miydi? Dahası, bunu istiyor muydu?
CENNETTEN GELEN ADAM – LUCY GORDON
Televizyon dizilerinin yakışıklı ve çapkın aktörü Travis Falcon, basına haddinden fazla malzeme olmuştur. Bu sebeple idari ekibi, kendisinden adını temizlemesi için önlem almasını ister. Bu esnada sade bir hayatı olan Charlene Wilkins, sette karşısına çıkınca, Travis için sahte bir kız arkadaş rolünü üstlenerek harika bir malzeme olur. Charlene, bir anda kendini yıldız oyuncunun kollarında bulur. Profesyonel bir oyuncu olmasa da Los Angeles'a gerçek geliş nedenini saklamakta başarılıdır. Travis'e olan duyguları gerçek olduğu için hayatı kısa sürede karmaşık bir hal alacaktır.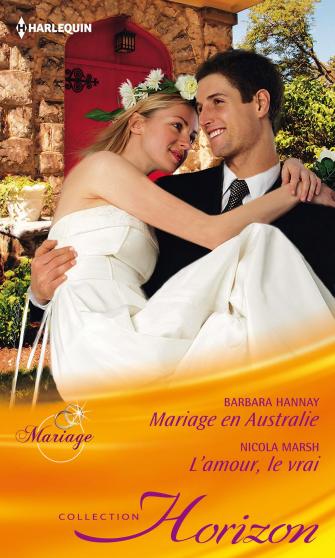 Mariage en Australie, Barbara Hannay
Soulagée. C'est la première émotion de Bella lorsqu'enfin, elle et Kent décident de rompre leurs fiançailles. Mais très vite, l'inquiétude la gagne : que va-t-elle faire, sans travail, dans sa ville natale de Wilara, où elle était revenue s'installer avec Kent ? Sa vie lui paraît bien vide… Jusqu'à ce que Damon Cavello fasse réapparition à Wilara. Damon, son premier amour, qui lui avait brisé le cœur. Damon, pour qui elle sent renaître ses sentiments, au premier regard. Et si le bonheur de Bella se trouvait dans son passé ?
L'amour, le vrai, Nicola Marsh
Gemma a toujours défendu ses convictions. Alors quand elle apprend qu'un énorme projet immobilier menace de détruire la plage de sa ville, elle n'hésite pas une seconde. Hors de question de laisser faire ! Elle va s'adresser directement au PDG de l'entreprise, et lui dire ce qu'elle pense. Sauf que ce qu'elle n'avait pas prévu, c'est que ce Rory Devlin – qui représente tout ce qu'elle déteste – serait aussi séduisant… ni qu'elle tomberait immédiatement sous son charme…
Mollys droomdate – Barbara Hannay
De Australische Molly is dol op alles wat met Londen te maken heeft: de Big Ben, de Theems, typisch Engelse gentlemen… In een opwelling plaatst ze een advertentie voor huizenruil, en Patrick, een Londense bankier, reageert. De huizenruil wordt een succes: al heen en weer mailend groeit het contact, én de liefde. Tot Molly ontdekt dat hij helemaal niet is wie hij beweert te zijn…
Een prachtig plaatje – Nina Harrington
Dag en nacht werkt Mimi aan haar eerste modeshow, waarmee ze naam hoopt te maken als ontwerpster. Net als ze zich doodvermoeid afvraagt of haar collectie wel de moeite waard is, komt er hulp. Hal moet herstellen van een ernstige blessure, en ondertussen wil hij haar graag helpen een onvergetelijke indruk te maken. Als hij eens wist wat  voor onvergetelijke indruk hij maakt op háár…
Una novia inesperada-Nuestro antiguo idilio – Caroline Anderson
Tema:Aventura apasionada
Una novia inesperada Lydia Fletcher cambió el delantal blanco de chef por un vestido de novia para competir en un concurso cuyo premio era una boda con todos los gastos pagados. Estaba decidida a darle a su hermana la boda de sus sueños, pero no imaginaba que durante el concurso conocería al impresionante aunque desconfiado viudo Massimo Valtieri.
Nuestro antiguo idilio Anita della Rossa, organizadora de bodas, era experta en asegurar finales felices… excepto el suyo propio. Porque Giovanni Valtieri, su amor desde la adolescencia, había roto la relación cinco años antes de forma inesperada, manteniendo sus motivos tan en secreto como el amor que todavía sentía hacia ella. ¿Resurgiría la pasión con su reencuentro en la Toscana?
BACI DOPO IL LAVORO di LEAH ASHTON
Amore e lavoro possono andare d'accordo? Certo. Provare per credere!
Sophie Morgan ha ricevuto una proposta molto interessante: quell'uomo affascinante, di nome Dan Hallyday, farà finta di essere il suo fidanzato al matrimonio di una sua cara amica e in cambio lei dovrà lavorare nel suo locale per qualche sabato di seguito. Accettare? Ma certo!
Dan mai avrebbe immaginato di fare una proposta del genere a un'emerita sconosciuta. Ma quella Sophie ha qualcosa che le donne che lui ha frequentato sino a quel momento non avevano. Sarà divertente scortarla a un matrimonio e poi vederla sgambettare tra i tavoli del suo locale e magari, alla chiusura, riaccompagnarla a casa per ricevere il bacio della buonanotte.
Felizes Juntos – Myrna MacKenzie
Temática: Crianças
Conseguiria apanhar aquele cobói com o seu laço? Quando Ivy, uma modelo conhecida internacionalmente, apareceu no rancho de Noah, ele perguntou-se porque é que uma mulher tão bonita queria trabalhar com vacas e não numa passarela. Ivy precisava de juntar dinheiro suficiente para pagar as suas dívidas e, ao mesmo tempo, queria mostrar a Noah que era uma boa trabalhadora. Contudo, o coração de Ivy ficava oprimido cada vez que via a filha pequena de Noah. Será que aquele pai dedicado e a sua filha conseguirão recompor o coração partido de Ivy e formar juntos uma família?
Niania w Nowym Jorku – Rebecca Winters
Nick, znany nowojorski biznesmen, świetnie sobie radzi w interesach, ale dzieci to dla niego czarna magia. Kiedy musi się zająć malutkim synkiem, wpada w popłoch. Na szczęście niania przysłana przez agencję okazuje się miłą i odpowiedzialną osobą. Nick bez wahania ją zatrudnia. Nie spodziewa się, że skromna dziewczyna z Nebraski pomoże mu nie tylko w opiece nad synkiem…
The English Lord's Secret Son by Margaret Way
Seven years ago, in the frosted beauty of an English country Christmas, Cate Hamilton and Ashe Carlisle fell hopelessly in love. But, as heir to a barony, Ashe was not from her world, and Cate returned to Australia brokenhearted, unknowingly carrying a secret that she keeps to this day.
When a chance meeting in Sydney sees their paths cross once more, neither can deny the unwavering intensity of their love. But first Cate and Ashe must revisit the ghosts of their past. And Cate's revelation is about to change everything.…
The Rancher's Unexpected Family by Myrna MacKenzie (Larkville Legacy)
It's well-known in Larkville that "no" is pretty much the sum total of cowboy Holt Calhoun's vocabulary ever since his marriage ended.
Single mom-to-be Kathryn Ellis won't take no for an answer. She needs Holt's influence, as head of the town's most powerful family, to save the local clinic before her baby is born!
But an early arrival with Kathryn's sparkling eyes and heart-melting smile makes it impossible for Holt to turn on his spurred heel and walk away.…
Snowbound In The Earl's Castle by Fiona Harper (Holiday Miracles)
Forthright Faith McKinnon is driving English aristocrat Marcus Huntington crazy! Ever since she turned up at his castle to research a valuable stained-glass window, Marcus can't stop thinking about her. Faith might try to hide her true self behind a facade of feistiness, yet to Marcus she's as transparent as the glass she studies. What's more, the vulnerable woman in hiding is frighteningly appealing.
Marcus and Faith don't believe in fairy tales, but being snowed in together over Christmas feels like magic. And the best gift of all would be discovering that happy-ever-afters really can come true….
Bella's Impossible Boss by Michelle Douglas
From the wrong side of the tracks, Dominic Wright is fiercely proud of his successful career—and his latest project is his gateway to the big time! The downside? Dominic is expected to babysit the boss's spoiled daughter.
Bella Maldini knows hotshot Dominic by reputation, and where women are concerned it's a bad one! Still, if Bella wants this project to succeed she must work closely with Dominic. If only he weren't so impossible—cynical, complicated, controlled—and, worst of all, sexier than any man she's ever met!
Wedding Date with Mr. Wrong  by Nicola Marsh
Callie Umberto has had enough of dating disasters after the holiday fling of a lifetime ended abruptly and she swore off men for good.
Now her ex-flame is back in her life. Pro surfer Archer Flett might be as gorgeous as always, but his commitment phobia is just as active. She must be out of her mind to agree to be his date for his brother's wedding! But there's something about Archer that has always tempted Callie to throw caution to the wind.…
A Girl Less Ordinary by Leah Ashton
Eleanor has worked hard to transform herself from the lonely girl she once was. Switching braces for a breathtaking smile, dowdy clothes for fabulous dresses, and heartbreak for flirty, fun-only dates, she's now "Ella." But one man can see the real woman beneath.
Fiercely private billionaire Jake Donner has never forgotten Eleanor, and he's shocked to see how she's changed. Sparks begin to fly as old memories haunt them—for the innocent attraction they once resisted is all grown up and won't be denied again.…
From Cherish:
The Tycoon's Secret Daughter / Bella's Impossible Boss
Susan Meier / Michelle Douglas
The Tycoon's Secret Daughter
Max had it all – charm, good looks and a successful career. Marriage to Kate was the icing on the cake. Until a devastating family secret brought his world crashing down… Now he must put the past behind him. Or risk losing the woman he loves – and his surprise child – forever…
Bella's Impossible Boss
Bella knows hot-shot Dominic by reputation and where women are concerned it's a bad one! Still, if Bella wants her project to work she must work closely with Dominic. If only he weren't so impossible, cynical, complicated…and sexier than any man she's ever met!
The Valtieri Baby / Slow Dance with the Sheriff
Caroline Anderson / Nikki Logan
The Valtieri Baby
With no explanation, Gio had ended his relationship with Anita, leaving her heartbroken. But a chance meeting leads to a night of passion and a baby bombshell! Now Gio must face the feelings he'd long ago buried. Can this brooding Italian make all Anita's dreams come true?
Slow Dance With the Sheriff
Ex-ballerina Ellie was the darling of Manhattan's most influential family – until she discovered her pedigree background was a lie. Donning her lucky stilettos, she headed to sleepy Larkville, Texas, for answers. Instead she found tall, dark sheriff, Jed…
For Current RIVA releases, including those from Liz Fielding, Nina Harrington, Leah Ashton, Ally Blake, Nicola Marsh, Jessica Hart and Trish Wylie, visit the RIVA page at Mills and Boon!
THE VALTIERI BABY by CAROLINE ANDERSON
Four years ago, my husband and I went to Tuscany, and I fell in love.  Not with him, I'd done that years before, but with Tuscany  – with the landscape, the people, the art and architecture, the food…there was nothing I didn't like.  It was steeped in history, full of amazing historic houses set in the most iconic and manicured landscape I've ever seen, like a carefully crafted patchwork quilt studded with avenues of improbably tall, thin trees.  We stayed in a little hill town, in a lovely hotel that had been a monastery, and dined every evening on the terrace.  Until nine, the swallows swooped and soared over the escarpment below the hotel.  At nine, as if a school bell had rung for the end of the lesson, the bats took over.  It was amazing, and never failed to fascinate us.  And after dinner, we'd go for a moonlit stroll through the cobbled streets, and I'd slip my shoes off and walk barefoot on the worn stones still warm from the sun.
It was magical, romantic, and I knew it was ripe for a book.  Little did I realise there would be three, but on the way home we were killing time in Pisa airport and there were three men lounging around a café table, and they just looked – interesting!  They became the Valtieri brothers – Luca (doctor), Massimo (widower, three children, runs family estate) and Giovanni (lawyer).  I wrote Luca first, in The Valtieri Marriage Deal, for the Medical Romance line, and his brothers were so insistent that I wrote Massimo's story, Valtieri's Bride, a while later for the Romance line.  And then Gio, the rake, the cynic, the anti-marriage 'make sure you get a pre-nup' lawyer brother, needed resolution.
Anita della Rossa had made her appearance in the first story, too, as the neighbours' daughter, lifelong family friend and wedding planner.  And I loved Anita.  It had emerged in the writing of the first two books that she, foolish girl, loved Gio, and they so needed a happy ending, but it was never going to be easy.  I had no clear idea what had happened to Gio, just that something had, something dark and tragic that had made him swear off love and run screaming from commitment.  So I started writing, and gradually he told me his story.  (You'll guess from this ramble that I'm not a plotter in any way!)
I threw them together, trapped them alone in her house, and forced them to confront their demons.  And thus, The Valtieri Baby was conceived…
FROM ROMANCE IN NORTH AMERICA:
THE VALTIERI BABY by Caroline Anderson
Wedding planner Anita della Rossa is an expert in arranging happy-ever-afters—except her own, that is. Five years ago her childhood sweetheart Giovanni Valtieri ended their relationship abruptly, keeping his reasons as secret as the love he still feels for Anita.
When Gio and Anita find themselves alone in a Tuscan hideaway, familiar passion rises to the surface once more. Gio is still struggling to open his heart…but with Anita's baby bombshell ringing in his ears can this brooding Italian finally make all Anita's dreams come true?
TAMING THE BROODING CATTLEMAN by Marion Lennox
(Larkville Legacy Continuity)
Alexandra Patterson swaps city chic for the dusty outback when she arrives at Werrara Stud Ranch. As the new vet, she may be more used to pampered puppies than prized stallions, but Alex is determined to show that she can cut it.…
Brooding rancher Jack Connor is in for a shock—the women in his life have only ever caused him pain and anguish…and Alexandra was supposed to be Alexander. Instead, the person before him is a petite blonde with a pink suitcase and is distractingly, infuriatingly attractive!
MR. RIGHT, NEXT DOOR! by Barbara Wallace
When financial executive Sophie Messina's weekend is disrupted by a DIY-loving neighbor, she's fuming and marches upstairs to complain. But her reaction to gorgeous Grant Templeton shocks her. The man is pure temptation!
The pretty workaholic throws ex-architect Grant off balance just as much—he doesn't know where Sophie's burning ambition comes from, but he knows exactly how destructive it can be. His mantra these days is Live for the moment…and he can tell that if he persuades Sophie to let loose, the moments they'll share will be unforgettable….
MY GREEK ISLAND FLING by Nina Harrington
For Lexi Sloane, ghostwriting a celebrity memoir on the Greek island of Paxos will be a career breakthrough…if she can persuade Mark Belmont to open up about his famous mother's life. Considering he grew up in the spotlight—with movie-star looks to boot—he's infuriatingly guarded.
Mark doesn't need this quirky busybody interfering, no matter how beautiful she is. But gradually he realizes that Lexi sees beyond his family's headlines—and is offering him an opportunity to set the record straight. In return, he'll teach Lexi to stop hiding behind the experiences of others and live her own life!
RETURN OF THE LAST MCKENNA by Shirley Jump
Dr. Brody McKenna has just returned home from serving as a medic in Afghanistan, and he has one more mission to fulfill….
Standing outside Kate Spencer's sweetshop, he takes a deep breath. Going through that door will take courage, for he's here to keep a promise made to his dying friend. He's prepared for tears or anger—not the deep attraction he feels for sparky-but-stressed Kate. One spontaneous offer of help later, this hero is surrounded by cupcakes, candy canes—and the greatest enticement to forget his past and take a new kind of risk.…
IF THE RING FITS… by Jackie Braun
Practical Rachel Palmer's aversion to risk-taking led to a marriage that just didn't fit. Now single again, she's embracing her newfound independence—and the first step is taking her jewelry business worldwide! For that she needs expert help from Italian Antonio Salerno….
His business help soon turns personal. And being in close-enough-to-kiss proximity to a sexy playboy makes Rachel feel she's taking a flying leap into deliciously risky territory. It's everything she's been craving…but this is a man famous for loving and leaving. Surely falling for him would be a step too far?
FROM CHERISH IN THE UK:
Her Outback Rescuer / Mr Right, Next Door!
Marion Lennox / Barbara Wallace
Her Outback Rescuer
Billionaire Hugo has no time for distractions. And beautiful ex-ballerina Amy is just that! She's certainly alluring but this trip to the Outback is about career decisions…not succumbing to her charms. Until she begs him for help, and resisting her becomes impossible…
Mr Right, Next Door!
Financial executive Sophie is a workaholic. But her gorgeous neighbour Grant is about to teach her how to live for the moment. The ex-architect knows that if he can persuade Sophie to let loose, the moments they share together could be life-changing!
The Rancher's Housekeeper / The Cowboy Comes Home
Rebecca Winters / Patricia Thayer
The Rancher's Housekeeper
When rugged rancher Colt offers vulnerable Geena a housekeeper job, he's worried that this beautiful stranger is trouble! But she quickly turns his house into a home he wants to come back to. Letting her into his world was one of the best decisions he's made; dare he let her into his heart?
The Cowboy Comes Home
Single mum Jess can't help but notice sexy cowboy Johnny. He's as wild as the stallions he trains. But Jess has learned never to trust a man in a stetson. Their fiery attraction is as hot as a Texan summer but can this wild wanderer finally be tamed?