TESELLİ İLİŞKİSİ – JACKIE BRAUN
Takı tasarımcısı Rachel Palmer hayatı boyunca mantığının sesini dinlemiş, kalbini görmezlikten gelmişti. Tekdüze ve sıkıcı evliliği kocası Mac'in onu aldatmasıyla sona erince kendini hiç ummadığı bir iş ortaklığının içinde buldu. Mağazasının sadık müşterisi İtalyan iş adamı Antonio Salerno, Rachel'ın eşsiz yeteneğini dünyaya tanıtmakla kalmayıp genç kadının kalbini de fethetmeye kararlıydı. Rachel ömrü boyunca almaktan kaçındığı risklerin girdabına kapılmış, yıllardır bastırdığı isteklerine teslim olmuştu. Kısa süren gönül ilişkileriyle ünlü bu meşhur playboy, Rachel için göze alınamayacak kadar büyük bir risk miydi? Bu yakışıklı ve seksi adamla ilişkisini profesyonel düzeyde tutmayı başarabilecek miydi? Dahası, bunu istiyor muydu?
CENNETTEN GELEN ADAM – LUCY GORDON
Televizyon dizilerinin yakışıklı ve çapkın aktörü Travis Falcon, basına haddinden fazla malzeme olmuştur. Bu sebeple idari ekibi, kendisinden adını temizlemesi için önlem almasını ister. Bu esnada sade bir hayatı olan Charlene Wilkins, sette karşısına çıkınca, Travis için sahte bir kız arkadaş rolünü üstlenerek harika bir malzeme olur. Charlene, bir anda kendini yıldız oyuncunun kollarında bulur. Profesyonel bir oyuncu olmasa da Los Angeles'a gerçek geliş nedenini saklamakta başarılıdır. Travis'e olan duyguları gerçek olduğu için hayatı kısa sürede karmaşık bir hal alacaktır.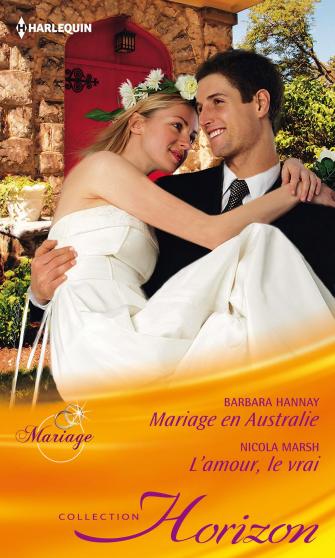 Mariage en Australie, Barbara Hannay
Soulagée. C'est la première émotion de Bella lorsqu'enfin, elle et Kent décident de rompre leurs fiançailles. Mais très vite, l'inquiétude la gagne : que va-t-elle faire, sans travail, dans sa ville natale de Wilara, où elle était revenue s'installer avec Kent ? Sa vie lui paraît bien vide… Jusqu'à ce que Damon Cavello fasse réapparition à Wilara. Damon, son premier amour, qui lui avait brisé le cœur. Damon, pour qui elle sent renaître ses sentiments, au premier regard. Et si le bonheur de Bella se trouvait dans son passé ?
L'amour, le vrai, Nicola Marsh
Gemma a toujours défendu ses convictions. Alors quand elle apprend qu'un énorme projet immobilier menace de détruire la plage de sa ville, elle n'hésite pas une seconde. Hors de question de laisser faire ! Elle va s'adresser directement au PDG de l'entreprise, et lui dire ce qu'elle pense. Sauf que ce qu'elle n'avait pas prévu, c'est que ce Rory Devlin – qui représente tout ce qu'elle déteste – serait aussi séduisant… ni qu'elle tomberait immédiatement sous son charme…
Mollys droomdate – Barbara Hannay
De Australische Molly is dol op alles wat met Londen te maken heeft: de Big Ben, de Theems, typisch Engelse gentlemen… In een opwelling plaatst ze een advertentie voor huizenruil, en Patrick, een Londense bankier, reageert. De huizenruil wordt een succes: al heen en weer mailend groeit het contact, én de liefde. Tot Molly ontdekt dat hij helemaal niet is wie hij beweert te zijn…
Een prachtig plaatje – Nina Harrington
Dag en nacht werkt Mimi aan haar eerste modeshow, waarmee ze naam hoopt te maken als ontwerpster. Net als ze zich doodvermoeid afvraagt of haar collectie wel de moeite waard is, komt er hulp. Hal moet herstellen van een ernstige blessure, en ondertussen wil hij haar graag helpen een onvergetelijke indruk te maken. Als hij eens wist wat  voor onvergetelijke indruk hij maakt op háár…
Una novia inesperada-Nuestro antiguo idilio – Caroline Anderson
Tema:Aventura apasionada
Una novia inesperada Lydia Fletcher cambió el delantal blanco de chef por un vestido de novia para competir en un concurso cuyo premio era una boda con todos los gastos pagados. Estaba decidida a darle a su hermana la boda de sus sueños, pero no imaginaba que durante el concurso conocería al impresionante aunque desconfiado viudo Massimo Valtieri.
Nuestro antiguo idilio Anita della Rossa, organizadora de bodas, era experta en asegurar finales felices… excepto el suyo propio. Porque Giovanni Valtieri, su amor desde la adolescencia, había roto la relación cinco años antes de forma inesperada, manteniendo sus motivos tan en secreto como el amor que todavía sentía hacia ella. ¿Resurgiría la pasión con su reencuentro en la Toscana?
BACI DOPO IL LAVORO di LEAH ASHTON
Amore e lavoro possono andare d'accordo? Certo. Provare per credere!
Sophie Morgan ha ricevuto una proposta molto interessante: quell'uomo affascinante, di nome Dan Hallyday, farà finta di essere il suo fidanzato al matrimonio di una sua cara amica e in cambio lei dovrà lavorare nel suo locale per qualche sabato di seguito. Accettare? Ma certo!
Dan mai avrebbe immaginato di fare una proposta del genere a un'emerita sconosciuta. Ma quella Sophie ha qualcosa che le donne che lui ha frequentato sino a quel momento non avevano. Sarà divertente scortarla a un matrimonio e poi vederla sgambettare tra i tavoli del suo locale e magari, alla chiusura, riaccompagnarla a casa per ricevere il bacio della buonanotte.
Felizes Juntos – Myrna MacKenzie
Temática: Crianças
Conseguiria apanhar aquele cobói com o seu laço? Quando Ivy, uma modelo conhecida internacionalmente, apareceu no rancho de Noah, ele perguntou-se porque é que uma mulher tão bonita queria trabalhar com vacas e não numa passarela. Ivy precisava de juntar dinheiro suficiente para pagar as suas dívidas e, ao mesmo tempo, queria mostrar a Noah que era uma boa trabalhadora. Contudo, o coração de Ivy ficava oprimido cada vez que via a filha pequena de Noah. Será que aquele pai dedicado e a sua filha conseguirão recompor o coração partido de Ivy e formar juntos uma família?
Niania w Nowym Jorku – Rebecca Winters
Nick, znany nowojorski biznesmen, świetnie sobie radzi w interesach, ale dzieci to dla niego czarna magia. Kiedy musi się zająć malutkim synkiem, wpada w popłoch. Na szczęście niania przysłana przez agencję okazuje się miłą i odpowiedzialną osobą. Nick bez wahania ją zatrudnia. Nie spodziewa się, że skromna dziewczyna z Nebraski pomoże mu nie tylko w opiece nad synkiem…
Uma Babá Perfeita – Barbara McMahon
As duas coisas que Stacey Williams mais adora são crianças e viagens. Por isso, trabalhar para Luis Aldivista cuidando de seus gêmeos durante uma estadia na Riviera é o emprego perfeito. Embora viúvo, Luis ainda esbanja charme. E como um pai cuidadoso, tudo o que mais deseja é ver de novo nos rostinhos de seus meninos um belo sorriso! Luis acredita que a vivacidade de Stacey os ajudará a recuperar a fé na vida. Ela sabe como fazer dois garotinhos gargalharem, mas será capaz de ajudar um homem atormentado a esquecer as dores de sua alma? A final, ela é apenas uma temporária, embora Luis queira que Stacey fique. Porém,
ela não sabe se ele a deseja como babá… ou como esposa!
Valčík na přivítanou – Shirley Jump
Vánoční svátky jsou ta správná chvíle k tomu, aby Jenna po letech přijela do rodného města v Indianě. Navenek sice působí jako světačka z New Yorku oblečená ve značkovém kostýmku a v lodičkách na vysokém podpatku, ale duší je stále tou malou venkovskou dívkou, která před lety utekla do světa. Setkání tváří v tvář s dávným přítelem Stocktonem, jenž ji před lety zradil, jí pěkně zamotá hlavu! Tenhle pohledný a příjemný muž ji přitahuje, ale Jenna ví, že mu musí odolat. Avšak novoroční polibek má magické kouzlo…
 La maman que sa fille attendait –  Soraya Lane
C'en est trop pour Soraya : sa vie citadine trop stressante ne lui convient plus. Elle a donc décidé de retourner à la campagne. Mais alors qu'elle savoure tout juste sa sérénité retrouvée, elle fait une rencontre qui la bouleverse : Luke, au regard envoûtant, et dont l'adorable petite fille, Lucy, rappelle à Soraya un passé douloureux qu'elle croyait pourtant avoir surmonté… Et si, grâce à l'amour, elle réussissait enfin à tourner la page ?
Le voyage de l'amour – Jennie Adams
Jane devrait être ravie, elle s'est enfin vue confier un projet intéressant dans son entreprise, et elle va en plus avoir l'occasion de voyager ! Sauf que ce sera en compagnie d'Alex MacKay, son nouvel associé… Alex, qui semble partager les sentiments qu'elle éprouve à son égard depuis un certain temps. Et c'est bien ce qui l'inquiète. Car elle en est persuadée : pour qu'Alex et elle puissent mener à bien le projet, leur relation doit rester strictement professionnelle. Or ce voyage en tête-à-tête risque de bouleverser ses bonnes résolutions…
Een vleugje charme -  Myrna Mackenzie
Eerst schrikt de verlegen Meg als haar tijdelijke baas, Etienne Gavard, vraagt hem te helpen zijn bedrijf nieuw leven in te blazen, maar dan laat ze zich toch overhalen. Hij belooft namelijk haar te leren hoe je meer zelfvertrouwen uitstraalt. Alleen brengt het haar nogal in de war dat hij daarbij gebruikmaakt van zijn Franse charme.
Onverwachte bruiloft – Natasha Oakley
Als Freya haar oma's antiek wil laten veilen, ziet veilingmeester Daniel haar aan voor een uitzendkracht en begint hij haar bars te commanderen. De kennismaking met zijn nukkige tienerdochter is ook al een ramp. Later blijkt ze het prima met Mia te kunnen vinden. Het lukt haar zelfs vader en dochter dichter bij elkaar te brengen. Maar wat moet ze met haar gevoelens voor hem? Ze heeft immers een geheim waarvan hij niets mag weten…
Enterrar el pasado – Nikki Logan
Caballero de brillante Armani Viktoria Morfitt se había construido un refugio en un apartamento de Manhattan tras la tragedia que cambió su vida cinco años antes. Su última idea era atraer un par de halcones peregrinos al nido que había instalado en la cornisa del edificio para recuperar algo de la naturaleza que tanto echaba de menos desde que dejó la escalada. Su casero, Nathan Archer, había planeado tirar hasta el último ladrillo del edificio y enterrar con él sus horribles recuerdos de infancia, pero cuanto más conocía a la encantadora Tori y a sus excéntricos vecinos, más difícil le resultaba llevar adelante el proyecto.
MILIONARIO DA PRIMA PAGINA – Liz Fielding
Chi lo ha detto che i milionari devono essere sempre solo belli e dannati? Esistono anche quelli romantici e sognatori e ve lo dimostreremo!
Questo è il momento che aspettavo! Claire Thackeray non sta più nella pelle: probabilmente è sul punto di scrivere il pezzo che le spalancherà le porte di qualche prestigiosa testata giornalistica nazionale. La proprietà di Cranbrook Park, appartenente da secoli alla stessa famiglia, sta per essere messa all'asta e lei potrebbe sapere prima di tutti chi sarà il fortunato che se l'aggiudicherà! Claire vive lì da quando è nata, lì ci lavoravano i suoi genitori e ora lei ci abita con la sua piccola. Quando scopre che il futuro proprietario sarà Hal North, il ragazzo ribelle che le ha rubato il cuore di adolescente, decide che oltre allo scoop deve avere anche lui.
Uma rapariga vintage – Nicola Marsh
As modas mudam, mas o verdadeiro amor não! Chase Etheridge estava a organizar o evento mais importante da sua carreira: a despedida de solteira da sua irmã. Costumava ser um homem muito controlado, mas a situação estava a ultrapassá-lo e sabia perfeitamente de quem era a culpa: era de Lola Lombard, a organizadora da festa, rainha do vintage e uma autêntica loira explosiva. Por trás daquela aparência exuberante de Lola escondia-se uma rapariga que sempre se menosprezara. Chase teria de a convencer de que a amava tal como ela era, quer estivesse vestida com o glamour dos anos passados ou com um vestido de noiva.
I hjältens famn Miniserie: Gnistrande kärlek (2/2) – Lucy Gordon
Dee vet att hennes känslor för sin yviga systers pojkvän Mark egentligen är allt annat än tillåtna. Parets förlovning borde snart stå för dörren och Dee gör sig redo att snällt bevittna spektaklet. Men när Mark plötsligt börjar rikta sin uppmärksamhet mot henne istället förändras allt … Mark är känd som en vild själ som gärna ser faran i vitögat, och platsen som stridspilot under det stundande andra världskriget passar honom perfekt. Frågan är bara om den trygga Dee har lust att vänta på sin krigshjältes hemkomst. Och kommer den äventyrslystne Mark då att kunna landa hos henne för gott?
En dans med dig – Fiona Harper
Prima ballerinan Allegra Martin har ägnat hela sitt liv åt dansen, men nu viskas det om att stjärnan har börjat tappa sin strålglans. Så när hon får erbjudandet om att tillbringa en vecka på en tropisk ö i överlevnadsexperten Finn McLeods tv-program tackar hon ja. Allegra visar snart att hon är allt annat än bortkommen i vildmarken, och inte ens Finn kan låta bli att imponeras av henne. Och absolut, Allegra tycker att det är skönt att fly undan alla förväntningar och den stenhårda träningen, men ska sanningen fram är det främst programmets stjärna Finn hon suktar efter …