Single Dad's Holiday Wedding by Patricia Thayer
Summoned back to her hometown, Lori Hutchinson hides her apprehensions behind a dazzling smile. She may be totally out of her depth, stepping into her father's corporate shoes, but she has a job to do….
Single dad Jace has learned to rely only on himself and his adorable little daughter. His construction business now depends on him working with Lori—so Jace sets out to prove who's boss….
But with the holiday season drawing near, it's not all just business. Jace discovers a sweet, generous woman hiding behind those pinstripes….
The Secret That Changed Everything by Lucy Gordon (Larkville Legacy)
Tired of being in the shadow of her prettier, more popular sisters, Charlotte Patterson decides to leave Manhattan behind and discover just what Italy's la dolce vita has to offer—good food, fine wine…delicious men?
But even Charlotte's Roman holiday can't help her escape a devastating family secret back in Larkville,Texas, and she finds herself seeking solace in the arms of mysterious widower Lucio Constello. Unable to deny their attraction, they share one intensely passionate night together—a night that will affect them more than they could possibly imagine….
Mistletoe Kisses with the Billionaire by Shirley Jump (Holiday Miracles)
Free-spirited journalist Grace McKinnon is happy jet-setting from one adventure to the next. That is, until work beckons her back home for Christmas, to Beckett's Run—the cozy winter wonderland that contains everything she ran away from years ago, including childhood sweetheart J. C. Carson….
Blazing into town in her red convertible, Grace nearly runs J.C. off the road! And working together to organize the Christmas festival, sparks fly even as their past looms between them.
But with the first snowflakes falling, will Grace be able to resist J.C. under the mistletoe…despite all their differences?
Her Outback Rescuer by Marion Lennox
Hugo Thurston, big-shot billionaire and heir to the Thurston Empire, prefers to keep a low profile. But when traveling on the grand Ghan Railway, he finds himself sharing a dinner table with beautiful ex-ballerina Amy Cotton, who threatens to seriously derail his icy cool!
She may be alluring, but Hugo has no time for distractions. This trip is about making life-changing career decisions…not succumbing to Amy's charms. But when Amy turns up in his suite, dressed in pink satin pajamas and begging him for help, it might just be too late….
Baby Under the Christmas Tree by Teresa Carpenter
San Diego hockey team's PR director Elle Austin goes beyond the call of duty to keep their rebel captain in check—even playing nanny to his son!
Max Beasley knows nothing about looking after a baby, so he enlists Elle's help after little Troy is left on his doorstep by his irresponsible ex.
Maybe it's the spirit of Christmas, or seeing Max's softer side, but Elle wishes he saw her as more than just an employee, and that they could give Troy the best gift of all—a family!
The Nanny Who Saved Christmas by Michelle Douglas
This Christmas, Nicola McGillroy will:
1. Be a great nanny to Cade Hindmarsh's two adorable little girls, and give them the best Christmas they've had since their mother left.
2. Enter into the Christmas spirit and forget the fact she should have been planning her own wedding right now.
3. Keep a straight head in her attraction to her gorgeous off-limits boss… Surely this is just a rebound thing and not true love—for both of them?
Snowed in at the Ranch / The Nanny Who Saved Christmas
Cara Colter / Michelle Douglas
Snowed in at the Ranch
As the only child of a single dad, Ty Halliday had wished for a different life, a mother, a family and, when his hopes were shattered, that place in him that dared to dream had died. But when Amy Mitchell takes a wrong turn and ends up snowed in at the Halliday Creek Ranch for Christmas, Ty becomes aware that an ember of hope remains in his hardened soul…
The Nanny Who Saved Christmas
This Christmas, Nanny Nicola McGillroy is determined to be a great nanny to Cade Hindmarsh's two adorable little girls – and forget her horrible ex-fiancé, along with the fact that she should have been planning her own wedding right now. Only problem is her attraction to her gorgeous, off-limits boss…surely this is just rebound, not true love – for both of them?
The Count's Christmas Baby / The Rancher's Unexpected Family
Rebecca Winters / Myrna Mackenzie
The Count's Christmas Baby
The hours that Sami Argyle spent in the arms of Italian stranger Count Ric Degenoli were the most amazing of her life. In Ric she found a man she could love for ever – but then tragedy ripped him from her embrace, leaving her expecting his child… Ric has never forgotten Sami, and when they find each other again he's thrilled to discover he's a father. Now all he wants for Christmas is his miracle family – together at last…
The Rancher's Unexpected Family
Since Holt Calhoun's marriage ended, the town of Larkville knows that 'no' is pretty much the sum total of the taciturn cowboy's vocabulary. But Kathryn Ellis won't take 'no' for an answer. She needs Holt to save the local clinic before her baby arrives! Holt does his best to ignore his growing feelings, until an early arrival with Kathryn's heart-melting smile makes it impossible to turn on his spurred heel and walk away…
The English Lord's Secret Son / A Gift for All Seasons
Margaret Way / Karen Templeton
The English Lord's Secret Son
Cate Radclyffe is a single mum and successful businesswoman living in Sydney. After falling in love with Lord Julian Ashton Wyndham, she plans to get married. However, their love isn't strong enough to overcome his vicious family and Cate leaves, broken-hearted and carrying with her a tiny, nine-month secret!
A Gift For All Seasons
Recently widowed April Ross isn't looking for a relationship, especially since her about-to-open inn will take up much of her time and energy. But when she hires Iraq war vet Patrick Shaughnessy as the inn's landscaper, she realises two things: first, his scars go much deeper than those she can see and second, she can't rest until she's brought him comfort…
Here are some special releases from the Harlequin Romance authors that might make your holidays a little brighter!
In time for Remembrance Day, check out LOVING OUR HEROES:
Jessica Hart / Amy Andrews / India Grey
Special Releases
November 2011
£1 donation to Help for Heroes for every book sold.
They risked their lives for their country… Now their hearts are on the line!
Included in this anthology: Last Minute Proposal, Mission: Mountain Rescue & Mistress: Hired for the Billionaire's Pleasure
1st story: In a charity competition curvy cake-baker Tilly is paired with ex-military chief executive Campbell Sanderson. For the rugged tycoon it's the winning that counts, but bubbly Tilly coaxes a show-stopping kiss!
£1 from the invoiced price of each Book will be contributed to Help for Heroes Trading Limited which Gift Aids all its taxable profits to Help for Heroes (Registered Charity Number 1120920).
Rebecca Winters / Marie Ferrarella / Shirley Jump
Special Releases
November 2011
by Rebecca Winters, Marie Ferrarella & Shirley JumpIncludes: The Sheriff's Christmas Surprise City lawyer Olivia's come to claim the sweet baby boy that Sheriff Rick loves as his own. Yet could she bring Rick some yuletide comfort and joy too? Also includes: Santa in a Stetson and Family Christmas in Riverbend.
Maggie Cox / Alison Roberts / Fiona Harper
By Request
December 2011
The Spanish Billionaire's Christmas Bride Billionaire Cristiano Cordova is determined his late cousin's child will be raised by the Cordova family – not by some gold-digger… Only Dominique Sanderson is a devoted mother, living in a shabby bedsit. Despite her delicate appearance she stands up to Cristiano . So he'll take her and the baby back to Spain…Christmas Bride-To-Be Dr Jack Sinclair turned his back on love – a long time ago! Now, stranded and rescued by vivacious Jill Metcalf, Jack's belief in Christmas miracles starts to return… Working with Jill at the local hospital to give the children a Christmas Day leaves Jack convinced that he's finally found a home. If he can claim a bride under the mistletoe…Christmas Wishes, Mistletoe Kisses Three wishes…1) A new life in the country: Louise Thornton's starting again with her young son!2) Someone to help decorate the Christmas tree: a meltingly attractive landscape architect makes her sparkle again.3) A proposal under the mistletoe?
Lucy Gordon / Caroline Anderson / Alison Roberts
By Request
November 2011
The Italian's Christmas Miracle Brooding Italian Drago di Luca and lawyer Alysa Dennis are brought together by a shocking betrayal. But they strike an unlikely friendship and forbidden awareness simmers… As Christmas approaches could the joy of the season make the two of them and Drago's motherless child a family? A Mummy for Christmas Consultant Kate Burgess is intrigued. Her gorgeous new surgeon is so talented – but why is he always late? Because, she discovers, he's alone with two small children. If he asks her to marry him, maybe this Christmas all their dreams can come true! The Italian Surgeon's Christmas Miracle Nurse Amy Phillips has two things she has to do this Christmas – look after six children and save their house from the ruthless new owner! Billionaire surgeon Luke is faced with evicting this vibrant brood from the house he's inherited, but he can't be such a bad guy… And when Amy welcomes him into her life, he experiences a Christmas miracle of his own…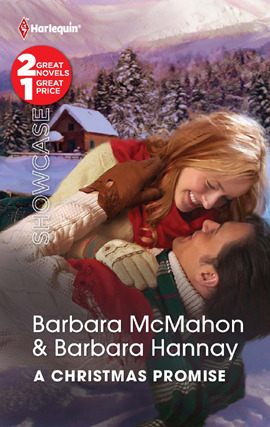 Snowbound Reunion by Barbara McMahon
Cath Morgan knows she was right to spend Christmas alone, far away from the city and her husband, Jake. For six years, Cath has dreamed of more from her marriage—a husband who isn't off globe-trotting, and a home ringing with children's laughter. But Jake isn't about to let his wife go so easily. He has one Christmas to prove how much he loves her…and share the secrets that have kept him away.
Christmas Gift: A Family by Barbara Hannay
Happy with his life as a wealthy bachelor, Hugh Strickland is stunned to discover he has a daughter! He wants to bring her home, but he's absolutely terrified. So Hugh pleads with Jo Berry to help him. While Jo is happy to see the father and daughter get closer, she realizes that soon she'll no longer be needed. But surely the ideal solution would be to give each other the perfect Christmas gift—a family.
Mills and Boon has a Mother's Day collection going on to celebrate Mother's Day in the UK. There are single titles and anthologies of mom-themed stories, including Romance authors Rebecca Winters, Barbara Hannay, Melissa James, Liz Fielding, Michelle Douglas, and more!
All you need to do is click on this link to start saving!