The Brides of Bella Rosa
Raye Morgan / Barbara Hannay / Rebecca Winters
Beauty and the Reclusive Prince
Isabella Casali sneaks into Prince Maximilliano's forbidden palace grounds to pick herbs for the Bella Rosa restaurant's signature sauce, but when she slips and nearly drowns, reclusive Max saves her… Ten years ago, Max locked away his heart. Now, cradling this beautiful girl in his arms, he is tempted to live again.
Executive: Expecting Tiny Twins
High-profile politician Lizzie has come to the Outback away from the prying media to have a baby – alone -  when she meets cattle manager Jack Lewis. Jack is hotter than the Outback sun and Lizzie can't help noticing! But he's so not her type, and surely he isn't ready for dad duty?
Miracle for the Girl Next Door
Thrill-seeker Valentino Casali is sure his childhood friend Clara Rossetti can help him forget his troubles. But she's not the same carefree girl he knew. Valentino is determined to bring back her sunny smile, make her forget her troubles and give her a summer to remember!
Diamonds are for Sharing
Raye Morgan / Nina Harrington / Shirley Jump
­ Life changing Decisions, Diamond Gifts  
Her Valentine Blind Date
Before Cari Christensen could say Mr Right?, the dark,  gorgeous stranger had whisked her outside the dance club  to his waiting car. By the time Max Angeli realised Cari wasn't his blind date, he was already falling for the pretty waitress.
Tipping the Waitress with Diamonds
Celebrity chef Brett Cameron has a tough choice to make. Carry on with his new restaurant dream or answer a plea for help… Sienna Rossi is trying to rescue her aunt's bistro but she's in trouble. Until she sees a vision in shimmering chef's whites: Brett, her teenage crush!
The Bridesmaid and the Billionaire
Susannah Wilson is planning the trip of a lifetime. But her locked-up heart is being opened by billionaire Kane Lennox who is escaping the stifling expectations of New York. Being with Susannah, Kane's breaking all the rules and happy ever after isn't on his agenda.
Weddings: The Proposals
Rebecca Winters / Melissa McClone / Emily Forbes
An irresistible invitation… Since Laura arrived at his family's chateau, Raoul Laroche hasn't taken his eyes off the golden-haired beauty, although Raoul has made up his mind; she's a gold-digger after the family fortune. But the minute Laura Aldridge stepped off the boat, she saw this trip to France as a brand-new beginning…
Second time's the charm… TV producer Chaney Sullivan is ready to face her old boss and lover, Drake Llewelyn; that is until she starts to fall for him a second time. But rumour has it Drake is still a heartbreaker. Can Chaney take the biggest risk of all and trust him with her heart?
Passion is heating up…Dr Sarah Richardson was not looking for a relationship, but she couldn't stop herself from being attracted to gorgeous firefighter Ned Kellaway. So when he decides that he just has to have her, Sarah gives in. But will one taste be enough or will they need forever?
TESELLİ İLİŞKİSİ – JACKIE BRAUN
Takı tasarımcısı Rachel Palmer hayatı boyunca mantığının sesini dinlemiş, kalbini görmezlikten gelmişti. Tekdüze ve sıkıcı evliliği kocası Mac'in onu aldatmasıyla sona erince kendini hiç ummadığı bir iş ortaklığının içinde buldu. Mağazasının sadık müşterisi İtalyan iş adamı Antonio Salerno, Rachel'ın eşsiz yeteneğini dünyaya tanıtmakla kalmayıp genç kadının kalbini de fethetmeye kararlıydı. Rachel ömrü boyunca almaktan kaçındığı risklerin girdabına kapılmış, yıllardır bastırdığı isteklerine teslim olmuştu. Kısa süren gönül ilişkileriyle ünlü bu meşhur playboy, Rachel için göze alınamayacak kadar büyük bir risk miydi? Bu yakışıklı ve seksi adamla ilişkisini profesyonel düzeyde tutmayı başarabilecek miydi? Dahası, bunu istiyor muydu?
CENNETTEN GELEN ADAM – LUCY GORDON
Televizyon dizilerinin yakışıklı ve çapkın aktörü Travis Falcon, basına haddinden fazla malzeme olmuştur. Bu sebeple idari ekibi, kendisinden adını temizlemesi için önlem almasını ister. Bu esnada sade bir hayatı olan Charlene Wilkins, sette karşısına çıkınca, Travis için sahte bir kız arkadaş rolünü üstlenerek harika bir malzeme olur. Charlene, bir anda kendini yıldız oyuncunun kollarında bulur. Profesyonel bir oyuncu olmasa da Los Angeles'a gerçek geliş nedenini saklamakta başarılıdır. Travis'e olan duyguları gerçek olduğu için hayatı kısa sürede karmaşık bir hal alacaktır.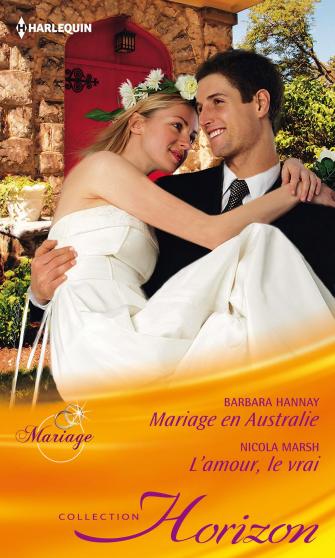 Mariage en Australie, Barbara Hannay
Soulagée. C'est la première émotion de Bella lorsqu'enfin, elle et Kent décident de rompre leurs fiançailles. Mais très vite, l'inquiétude la gagne : que va-t-elle faire, sans travail, dans sa ville natale de Wilara, où elle était revenue s'installer avec Kent ? Sa vie lui paraît bien vide… Jusqu'à ce que Damon Cavello fasse réapparition à Wilara. Damon, son premier amour, qui lui avait brisé le cœur. Damon, pour qui elle sent renaître ses sentiments, au premier regard. Et si le bonheur de Bella se trouvait dans son passé ?
L'amour, le vrai, Nicola Marsh
Gemma a toujours défendu ses convictions. Alors quand elle apprend qu'un énorme projet immobilier menace de détruire la plage de sa ville, elle n'hésite pas une seconde. Hors de question de laisser faire ! Elle va s'adresser directement au PDG de l'entreprise, et lui dire ce qu'elle pense. Sauf que ce qu'elle n'avait pas prévu, c'est que ce Rory Devlin – qui représente tout ce qu'elle déteste – serait aussi séduisant… ni qu'elle tomberait immédiatement sous son charme…
Mollys droomdate – Barbara Hannay
De Australische Molly is dol op alles wat met Londen te maken heeft: de Big Ben, de Theems, typisch Engelse gentlemen… In een opwelling plaatst ze een advertentie voor huizenruil, en Patrick, een Londense bankier, reageert. De huizenruil wordt een succes: al heen en weer mailend groeit het contact, én de liefde. Tot Molly ontdekt dat hij helemaal niet is wie hij beweert te zijn…
Een prachtig plaatje – Nina Harrington
Dag en nacht werkt Mimi aan haar eerste modeshow, waarmee ze naam hoopt te maken als ontwerpster. Net als ze zich doodvermoeid afvraagt of haar collectie wel de moeite waard is, komt er hulp. Hal moet herstellen van een ernstige blessure, en ondertussen wil hij haar graag helpen een onvergetelijke indruk te maken. Als hij eens wist wat  voor onvergetelijke indruk hij maakt op háár…
Una novia inesperada-Nuestro antiguo idilio – Caroline Anderson
Tema:Aventura apasionada
Una novia inesperada Lydia Fletcher cambió el delantal blanco de chef por un vestido de novia para competir en un concurso cuyo premio era una boda con todos los gastos pagados. Estaba decidida a darle a su hermana la boda de sus sueños, pero no imaginaba que durante el concurso conocería al impresionante aunque desconfiado viudo Massimo Valtieri.
Nuestro antiguo idilio Anita della Rossa, organizadora de bodas, era experta en asegurar finales felices… excepto el suyo propio. Porque Giovanni Valtieri, su amor desde la adolescencia, había roto la relación cinco años antes de forma inesperada, manteniendo sus motivos tan en secreto como el amor que todavía sentía hacia ella. ¿Resurgiría la pasión con su reencuentro en la Toscana?
BACI DOPO IL LAVORO di LEAH ASHTON
Amore e lavoro possono andare d'accordo? Certo. Provare per credere!
Sophie Morgan ha ricevuto una proposta molto interessante: quell'uomo affascinante, di nome Dan Hallyday, farà finta di essere il suo fidanzato al matrimonio di una sua cara amica e in cambio lei dovrà lavorare nel suo locale per qualche sabato di seguito. Accettare? Ma certo!
Dan mai avrebbe immaginato di fare una proposta del genere a un'emerita sconosciuta. Ma quella Sophie ha qualcosa che le donne che lui ha frequentato sino a quel momento non avevano. Sarà divertente scortarla a un matrimonio e poi vederla sgambettare tra i tavoli del suo locale e magari, alla chiusura, riaccompagnarla a casa per ricevere il bacio della buonanotte.
Felizes Juntos – Myrna MacKenzie
Temática: Crianças
Conseguiria apanhar aquele cobói com o seu laço? Quando Ivy, uma modelo conhecida internacionalmente, apareceu no rancho de Noah, ele perguntou-se porque é que uma mulher tão bonita queria trabalhar com vacas e não numa passarela. Ivy precisava de juntar dinheiro suficiente para pagar as suas dívidas e, ao mesmo tempo, queria mostrar a Noah que era uma boa trabalhadora. Contudo, o coração de Ivy ficava oprimido cada vez que via a filha pequena de Noah. Será que aquele pai dedicado e a sua filha conseguirão recompor o coração partido de Ivy e formar juntos uma família?
Niania w Nowym Jorku – Rebecca Winters
Nick, znany nowojorski biznesmen, świetnie sobie radzi w interesach, ale dzieci to dla niego czarna magia. Kiedy musi się zająć malutkim synkiem, wpada w popłoch. Na szczęście niania przysłana przez agencję okazuje się miłą i odpowiedzialną osobą. Nick bez wahania ją zatrudnia. Nie spodziewa się, że skromna dziewczyna z Nebraski pomoże mu nie tylko w opiece nad synkiem…
THE HEIR'S PROPOSAL – Raye Morgan
Marc Huntington needs to protect his ancestral estate when he discovers it's being sold out from under him. Luckily, keeping an eye on the main competition is no hardship: Torie Sands is as beautiful as she is secretive….
Torie grew up as the butler's daughter on the Huntington estate and she's back to clear her family name—not to fall for enigmatic Marc all over again! How will she gain the trust of this hard, suspicious man, whose years as a navy SEAL have left him wounded and wary?
THE SOLDIER'S SWEETHEART – Soraya Lane
Larkville hero comes home!
Returning Special Forces soldier Nate Calhoun is struggling to adjust to small-town life. It's a relief to get back to the bunkhouse with only his memories and a bottle of bourbon  for company.
Only Sarah Anderson can see straight through Nate's surly exterior to his pain. As childhood sweethearts they were inseparable—until he left, shattering her heart.
But hanging out like they used to—racing horses and shooting the breeze on the ranch—they begin to see that there really might be that spark still between them….
THE BILLIONAIRE'S FAIR LADY  – Barbara Wallace
For hotshot lawyer Mike Templeton, success is nonnegotiable. So when actress-turned-waitress Roxy O'Brien rocks his Manhattan office with a scandalous inheritance claim that could save his new legal practice, he can't refuse the challenge. But first he has to "smooth out the rough edges."
One uptown makeover later, Roxy feels every inch the beautiful New York heiress—and, judging by the heat in Mike's eyes, he agrees! But when their professional relationship becomes a little too personal, suddenly it's not just her future at stake—it's her heart….
A BRIDE FOR THE MAVERICK MILLIONAIRE – Marion Lennox
Rachel Cotton has high hopes for her cruise through the beautiful Kimberley region—surely this will be the perfect chance to forget her past and enjoy some much-needed rest and relaxation? But gorgeous shipmate Finn Kinnard seems much more interested in stirring her up!
Finn might make Rachel feel all woman, but he also warns her that romantically he can't be relied on. But when a high-octane adventure puts this claim to the test, Rachel discovers there's much more to Finn than meets the eye—and that he might be just the man to entrust her fragile heart to.…
SHIPWRECKED WITH MR. WRONG – Nikki Logan
Marooned in paradise with a  beautiful woman…
…is surely the only way for a truly committed playboy to get shipwrecked! Ideally, however, Rob Dalton would have chosen a slightly friendlier companion! Prickly conservationist Honor Brier clearly just wants to be left alone with her birds and turtles.
Honor's had more than her fair share of heartbreak, and the isolated island has been a perfect place to recover in peace. She has no time for accidental tourists. Yet Rob is charming and infuriatingly attractive—his sheer passion for life is difficult to resist. Slowly Honor is discovering that even playboys may have their good points….
WHEN CHOCOLATE IS NOT ENOUGH… – Nina Harrington
A shared passion for…chocolate!
One taste of Daisy Flynn's delicious confectionery and  Max Treveleyn is hooked! This quirky chocolatier is just the person to showcase the cocoa from his plantation.
Daisy jumps on the idea—she's always dreamed of having  her own chocolate shop, and with Max's offer, that dream  can become a reality. But Daisy finds sexy single dad Max  very distracting!
Keeping focused on work isn't easy. But Daisy has learned the hard way that she's safer indulging in chocolate than in relationships. She mustn't be tempted by something even sweeter….
Suddenly You / His Larkville Cinderella
Sarah Mayberry / Melissa McClone
Suddenly You
Pippa White has always been out of bounds for Harry Porter. First she was going out with his best friend Steve. Then she had his baby. They might have broken up, but Harry would never betray a lifelong friendship by pursuing a woman he's always found incredibly compelling. Would he?
His Larkville Cinderella
The small-town girl with big dreams has finally reached Hollywood! For years costume designer Megan Calhoun has longed for someone to really notice her and, under the gaze of A-list heartthrob Adam Noble, she begins to step out of the shadows…
The Cattleman's Special Delivery / The Surgeon's Favourite Nurse
Barbara Hannay / Teresa Southwick
The Cattleman's Special Delivery
Reece had always been content with the silence of the Outback – no emotions, no distractions. But since the terrifying night when he saved Jess Cassidy's life, she has been haunting his dreams. When she and her adorable baby arrive unexpectedly at his homestead, his resolve to keep himself alone starts to crumble…
The Surgeon's Favourite Nurse
The moment Dr Jake Andrews arrives at Mercy Medical West, all the women swoon – except nurse Hope Carmichael. A widow determined never to love and lose again, Hope is immune to the gorgeous surgeon…but Jake will do anything to win the heart of his favourite nurse.