Cupcakes!
One of the best parts of "researching" this book was that I got to look for interesting cupcake recipes and variations. My heroine, Avery, is a baker who specializes in cupcakes.
Now, while the hands-on research might have been fun, I had to be strict with myself. I was writing this in the 2 months leading up to last year's RWA conference…not the time you want Cupcake Butt. So I did a lot of LOOKING. Not just at flavours but decorations. Man, people get really creative when it comes to baked goods!
I did try one recipe because I LOVE lemon and I made these for my RWA chapter meeting. I couldn't resist Lemon Chiffon Cupcakes (click on the name to go to the site where I got the recipe). They turned out pretty well, too!
Avery makes these great Chocolate Cream Cheese cupcakes that Callum LOVES – and she ends up giving them to the kids in a youth program on their volunteer day at Butterfly House, a charity I introduced in my first Cadence Creek book last May. My husband made these once and they were OMG so good. You don't even have to frost them…there's this cheesecakey filling in the middle that is gorgeous.
But when Avery is asked to bake special cupcakes for the Butterfly House Chili Cookoff event at the annual rodeo, I really went searching. A rodeo required a cupcake with a bit of kick, so I came across recipes for Chocolate Chili Cupcakes. In particular I loved the idea of this one, with Chili Cream Cheese Frosting! The difference is the pieces of chocolate on the top weren't quite right. Instead I pictured something more like the picture below - but in red!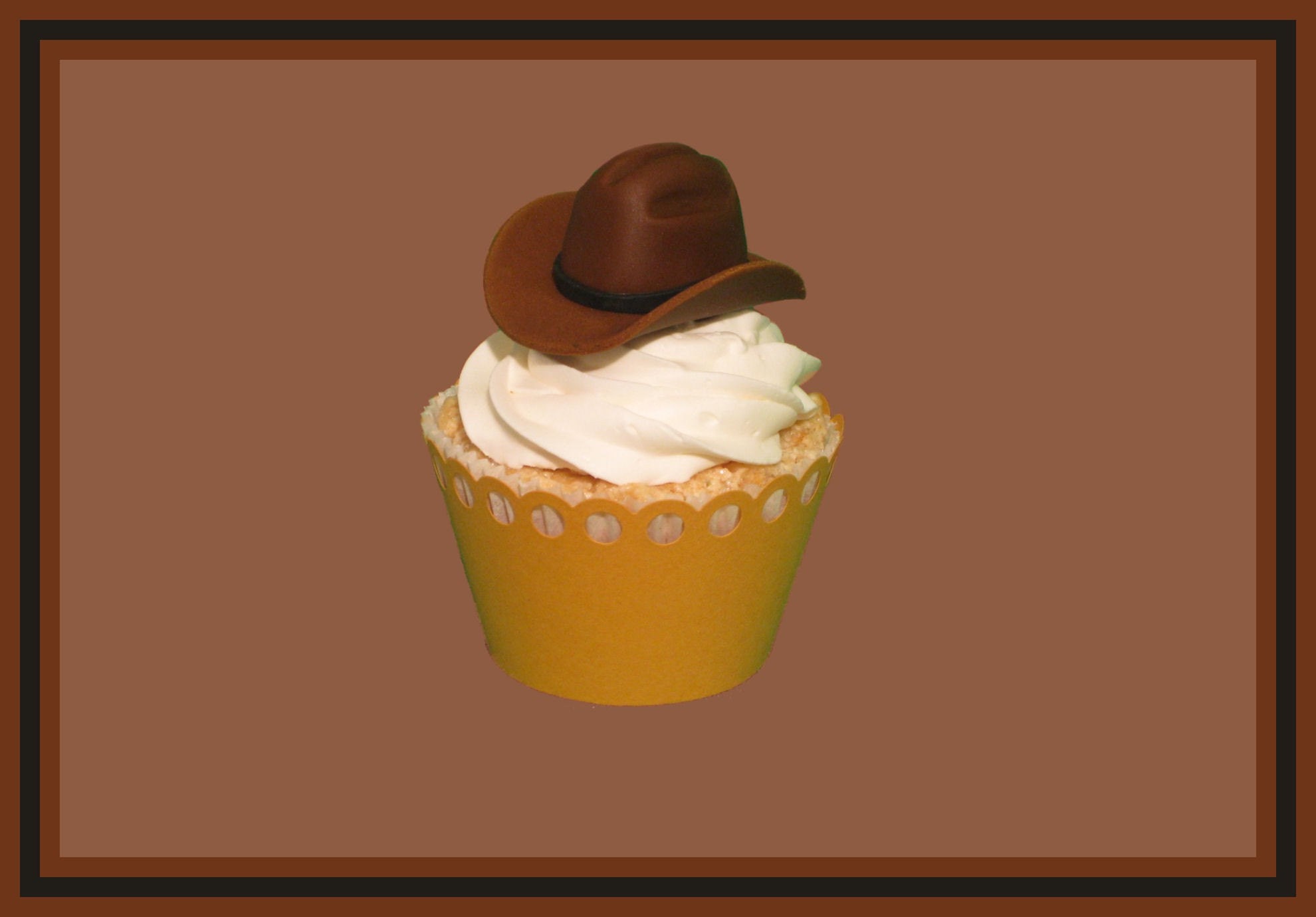 Isn't that the cutest thing???
Of course they were a big hit…and that turns out to be a pretty significant detail as Avery makes some tough decisions later on in the book.
And my virtual research meant that I didn't have to worry about fitting into my clothes come conference time.
You can pick up Little Cowgirl On His Doorstep at amazon, Harlequin, and anywhere else Harlequin Romance is sold. And please stop by my website at www.donnaalward.com! You might want to check out the Recipe Corner…
Guardian To The Heiress – Margaret Way
To protect an heiress…
Carol Chancellor is estranged from her relatives thanks to a bitter feud. So when she's revealed as the newest Chancellor heiress, shock waves of resentment ripple throughout the family. Fortunately, hotshot Sydney lawyer Damon Hunter is on hand to protect her as she comes home to claim what is hers.
Carol's never felt as strong as when she's in Damon's arms.  And when her safety is threatened, the only person she can turn to is him.
Soon Carol realizes that it's not just her safety that's in danger—but also her heart.…
Little Cowgirl on his Doorstep – Donna Alward
Little cowgirl makes three
For Avery Spencer, the sight of rugged, sullen and dangerously sexy Callum Shepard is enough to set her pulse racing. Too bad she's only on his ranch to tell him that her adorable baby niece is his daughter!
Reclusive rancher Callum is shocked to discover he's a father. But now Callum must learn to believe he does have what it takes to become a dad, and convince Avery that both she and baby Nell belong on the ranch—with him!
Misson: Soldier to Daddy – Soraya Lane
Luke's toughest fight yet is for his family
In the Special Forces, Luke Brown trained for the harshest of war situations; pity there's no training for being a husband and father. After two years away, he wasn't expecting his wife to welcome him open-armed, but he wasn't anticipating divorce papers either.
When she sees him standing on her doorstep in his immaculate uniform, Olivia longs to feel her handsome husband's strong arms around her. But raising their son has been tough, and watching little Charlie fall in love with a dad who might leave again is terrifying.
Luke doesn't want to walk away again—and he's determined to win back his wife and child!
Winning Back His Wife – Melissa McClone
Her first love…
When Sarah Purcell ends up in hospital, she's shocked to find the dreamy doc by her bedside is her soon-to-be ex-husband, Cullen Gray!
Sarah's reluctantly released into Cullen's care, but he's as emotionally distant as ever, and her old insecurities bubble over. Surely the new life he's forged for himself in Hood Hamlet proves he can live without her?
Their second chance?
Caring for his wife 24/7, this time Cullen won't bury his feelings. As the tremors of their old attraction erupt, he has one thing on his mind: it's time to bring his wife back by his side—where she belongs.
See More      Amazon
The Guy To Be Seen With – Fiona Harper
London's most eligible guy—finally snared?
Who can forget gorgeous adventurer Daniel Bradford? Especially after this commitment-phobe's on-air rejection of his girlfriend's marriage proposal sparked a scandal! But some people love a challenge. With Daniel suddenly back on the market, all of London's single ladies are on the lookout. Yet he's shown no inclination to get caught by anyone…until now.
So just who is special enough to catch his attention? Our sources reveal she's strong-willed blonde bombshell Chloe Michaels, orchid specialist and Daniel's new colleague. And rumor has it  that with this tough cookie, London's very own Indiana Jones is  in for the—romantic—adventure of a lifetime!
Harlequin KISS has 4 new fun, flirty and sensual romance books available every month.
See More      Amazon
Must Like Kids – Jackie Braun
"Children have  a place and it's anywhere I'm not!"
It was one off-the-cuff remark. But when it goes viral, Alec McAvoy is labeled the playboy CEO of Best For Baby—who hates kids!
Enter Julia Stillwell, image consultant extraordinaire. The widowed mom of two has a knack for changing public opinion, and she'll teach Alec all he needs to know. But once they start this makeover, they don't want to stop…and that's when one little kiss leads to many, many others!
So now Julia's worked her magic, but is Alec's transformation only skin-deep? Or can this hunky executive convince her that he is ready to become a family man—so long as it's with Julia?
Harlequin KISS has 4 new fun, flirty and sensual romance books available every month.
See More      Amazon
Ballroom to Bride and Groom / Cindy's Doctor Charming
Kate Hardy / Teresa Southwick
Ballroom to Bride and Groom
Suddenly single TV presenter Polly Anna Adams enters a celebrity dance competition. Her partner? None other than gorgeous but wary professional dancer Liam Flynn! As the competition heats up, so does their attraction. If only they could convince themselves their hot tango passion is 'just for the cameras'…
Cindy's Doctor Charming
Widowed neonatal specialist Nathan Steele wasn't looking for a fairy-tale…until he met wary hospital housekeeper Cindy Elliot. One kiss awakened an unexpected passion and now Cindy is expecting! Earning her trust won't  be easy, but Nathan is ready to carry her into happily ever after.
Her Rocky Mountain Protector / The Soldier's Sweetheart
Patricia Thayer / Soraya Lane
Her Rocky Mountain Protector
Brooding ex-soldier Grady Fletcher plans to keep his mind occupied. Single mum Gina Williams is usually wary around men, but she knows that beneath Grady's gruff exterior lies a trustworthy man. So when Gina's son goes missing he's the only person she'll trust – a man whose survival instinct is as strong as his heart…
The Soldier's Sweetheart
Returning Special Forces soldier Nate Calhoun is struggling to adjust to small-town life. Only Sarah Anderson, his childhood sweetheart, can see straight through his surly exterior to his pain. But while hanging out like they used to, they realise that there is still an undeniable spark between them…
Liebesparadies im Alpenschnee – Lucy Gordon
1. KAPITEL "Philippe, hier bin ich!" Crystal Broussard winkte ihrem Sohn zu. Er war verträumt am Eingang der Schule stehen geblieben, während die anderen Kinder lärmend zu ihren wartenden Eltern liefen. Nun schlurfte er mit der Mütze in der…

Hýčkaná snoubenka – Liz Fieldingová
Lucy si připadala jako v pohádce, když se přes noc stala z obyčejné sekretářky snoubenkou úspěšného miliardáře. Jenže pak zjistila, že vypočítavému finančníkovi šlo jen o reklamu, která by mu dopomohla k dalším milionům. Proto se rozhodne ho opustit a na útěku doslova vrazí do náruče šéfa ochranky Nata. Vzájemná přitažlivost, která se nedá přehlédnout, Lucy zaskočí…  Pomůže jí tenhle okouzlující muž zbavit se bývalého snoubence?
PATRICIA THAYER – NOEL DİLEĞİ
Boone Gifford hayatı boyunca mutlulukları dışarıdan izlemişti. Şimdiyse bir dostunun son isteğini yerine getirmek için geldiği Rocking H. Çiftliği'nde yaklaşan Noel'in heyecanıyla kafası karışmıştı. Güzeller güzeli Amelia Hughes ailesine muhteşem bir Noel yaşatmak konusunda kararlıydı.
Boone'un tek amacı görevini tamamlayıp bir an önce Teksas'a dönmek olsa da, fırtına yolları kapatmış, elektrikler kesilmiş, iletişim kopmuştu. İmkânı olsa da bir kadını ve beş yaşında çocuğu bırakıp gidemezdi. Minik ailenin yardımına ihtiyacı vardı.
Yalnız kovboyun hayata adım atma vakti gelmişti
DONNA ALWARD – NOEL MELEĞİ
Kelley ailesinin çiftliğini tek başına yöneten, kusursuz bir abla, teyze ve torundur.
Ailesi için yapamayacağı bir şey yoktur. Tek başına çocuğunu büyütmeye çalışan ve bir sürü sorunla boğuşan kız kardeşinin yükünü hafifletmek için Noel yemeğini bu kez kendisinin pişirmesini teklif eder. Ancak küçük bir sorunu vardır.
Yakışıklı iş adamı Mack Dennison'un sorunun çözebileceğini umar. Mack teklifini kabul eder ama bu kez Kelley daha büyük sorunlarla boğuşmak zorunda kalacaktır.
Un double miracle, Nikki Logan
En décidant de porter le bébé de sa soeur disparue, Belinda savait que sa vie serait bouleversée, d'autant qu'elle vient d'apprendre qu'elle attend des jumeaux. Mais ce qu'elle n'avait pas prévu, c'est que Flynn, l'oncle des enfants, se manifesterait, et encore moins qu'il lui ferait cette étonnante proposition : l'épouser, pour donner, ensemble, une famille aux bébés à naître…
Une demande extraordinaire, Lucy Gordon
Jamais, dans sa carrière d'avocate, Pippa n'aurait imaginé se trouver confrontée à un tel scénario : Roscoe Havering, son nouveau client, veut qu'elle l'aide à remettre son frère sur le droit chemin… en le faisant tomber amoureux d'elle ! Bien sûr, la première réaction de Pippa est de refuser. Mais, bientôt, le charme irrésistible de Roscoe commence à faire fléchir ses défenses…
Een winterromance – Shirley Jump
Dat is nog eens een kerstverrassing, denkt Edward als Olivia Perkins, met wie hij ooit een korte romance had, opeens weer opduikt in zijn leven. Hij vindt haar nog mooier dan vroeger, maar… ze heeft ook een baby bij zich. Dat betekent vast dat haar hart inmiddels aan iemand anders toebehoort. Er staat hem echter nóg een verrassing te wachten – een echt kerstwonder!
Liefde en chocola – Nina Harrington
Daisy's chocoladetoetjes zijn dé hit in culinair Londen, en na één hap weet Max Treveleyn dat hij haar binnen moet halen. Hij levert namelijk de beste chocola die er bestaat, dus als dat geen gouden combinatie is? Puur of melk, dat maakt niet uit. De relatie puur zákelijk houden blijkt echter een stuk lastiger te zijn…
MISTERO MILIONARIO di Margaret Way.
Genevieve Grenville ha chiesto ospitalità in quella villa da sogno perché ha un mistero da risolvere e non ammetterà alcun tipo di disattenzione. Ma se a distrarla è il proprietario di tutto ciò che la circonda, l'enigmatico Bret Trevelyan, forse potrebbe fare un'eccezione.
UN MILIONARIO DA SCOPRIRE di Barbara Hannay.
Ci mancava anche questa! Emily Silver non ne può più: prima tradita dal suo fidanzato e ora da suo cugino, che le aveva offerto ospitalità nel suo appartamento ma che poi è partito senza avvisarla. Che fare? A fare gli onori di casa c'è Jude Marlowe, famoso scrittore di gialli. Anche lui pare nascondere qualcosa. E se lei scoprisse il suo segreto?
En skygge fra fortiden – Fiona Harper
Serena elsker alt andet end blind dates! Hun har vendt sin ukonventionelle opvækst ryggen, og hendes højeste ønske er at finde den perfekte ægtemand.
Jake er en yderst succesfuld og målrettet forretningsmand. Han har arbejdet hårdt for at slippe ud af det sociale boligbyggeri, han voksede op i, og han har kun en enkel leveregel: undgå ægteskab!
En romantisk middag på en charmerende restaurant, stearinlys, røde roser, champagne på køl … Scenen er sat til den perfekte blind date!
En ny chance – Leigh Michaels
Austin Weaver er en efterstræbt mand både i erhvervslivet og af kvinder. Men der er kun en kvinde, som han er interesseret i at blive gift med. Paige. Hende han har elsket og mistet …
Paige McDermott bliver chokeret over at se Austin igen. Det er syv år siden, de blev skilt, og nu er han bare en klient som alle andre. Bortset fra at han har besluttet sig at genoplive deres ægteskab. Eller måske vil han bare have en barnepige til sin lille datter.
Today's tree is brought to you by Donna Alward. The Alward family has FINALLY found the perfect spot for their tree that ensures there is no loss of seating for family and friends but still provides visual enjoyment – HER OFFICE! With just a shift of her filing cabinet, the tree can be viewed from the adjoining living room without having to juggle furniture. And it only took four Christmases to clue in that this is the perfect place!

Donna's addition to the grand prize is a copy of SLEIGH RIDE WITH THE RANCHER! Leave a comment to be entered – one entry per day will be counted – and come back on Dec 26 to see if you're the big winner!