Are you ready to party?
The Harlequin Romance Authors are pleased to celebrate the relaunch of our site with our readers! Check out our Meet The Authors page where you can read a bit about your favourite author and get a gander at what she looks like! Have a peek at our Fun Stuff page where you'll find candid pictures of the authors at various events. And the home page will have new and current material so you'll always be able to see what's going on in the Romance, Cherish and Riva lines.
We thought that it would be fun to give away some books and share some holiday treats to kick things off, so here's the deal: check back each day for a chance to win a book AND snag some fabulous recipes and holiday traditions.  Just leave a comment with your contact info to be entered, and when ALL the books have been spotlighted, we'll be posting a winner's list.  Easy peasy!
To kick it off, Barbara McMahon joins us with a wonderful book and a gorgeous recipe!
Chocolate Truffle Cookies
4 squares (1 oz each) Unsweetened chocolate
12 oz semisweet chocolate chips (divided)
1/3 cup butter or margarine
1 cup sugar
3 eggs
1 1/2 teaspoons vanilla extract
12 cup all-purpose flour
2 tablespoon baking cocoa
1/4 teaspoon baking powder
1/4 teaspoon salt
In a microwave or double boiler melt unsweetened chocolate, half the chocolate chips and butter.  Cool for 10 minutes.
In a mixing bowl, beat sugar and eggs for two minutes.  Beat in vanilla and the chocolate mixture.  Combine flour, cocoa, baking powder and salt.  Beat into the chocolate mixture. Stir in remaining chocolate chips.  Cover and chill for three hours.
Remove about one cup dough.  With slightly floured hands (I use baking  cocoa) roll into 1 inch balls.  Place on ungreased baking sheet.  Bake at 350 degrees for 10-12 minutes.  Cool on pan for 3 to 4 minutes before removing to a wire rack to cool completely.  Repeat with remaining dough.
Optional:  dust with confectioners sugar.
Yield:  about four dozen melt in your mouth delicious cookies.
Barb is giving away a copy of A CHRISTMAS PROMISE featuring Snowbound Reunion and also CHRISTMAS GIFT: A FAMILY by Barbara Hannay.  To enter, just leave a comment! And don't forget to check every day for new treats and fabulous reads!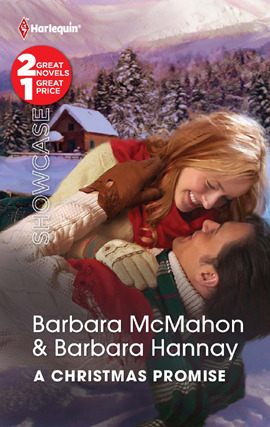 Snowbound Reunion  by Barbara McMahon
Cath Morgan knows she was right to spend Christmas alone, far away from the city and her husband, Jake. For six years, Cath has dreamed of more from her marriage—a husband who isn't off globe-trotting, and a home ringing with children's laughter. But Jake isn't about to let his wife go so easily. He has one Christmas to prove how much he loves her…and share the secrets that have kept him away.
Christmas Gift: A Family by Barbara Hannay
Happy with his life as a wealthy bachelor, Hugh Strickland is stunned to discover he has a daughter! He wants to bring her home, but he's absolutely terrified. So Hugh pleads with Jo Berry to help him. While Jo is happy to see the father and daughter get closer, she realizes that soon she'll no longer be needed. But surely the ideal solution would be to give each other the perfect Christmas gift—a family.